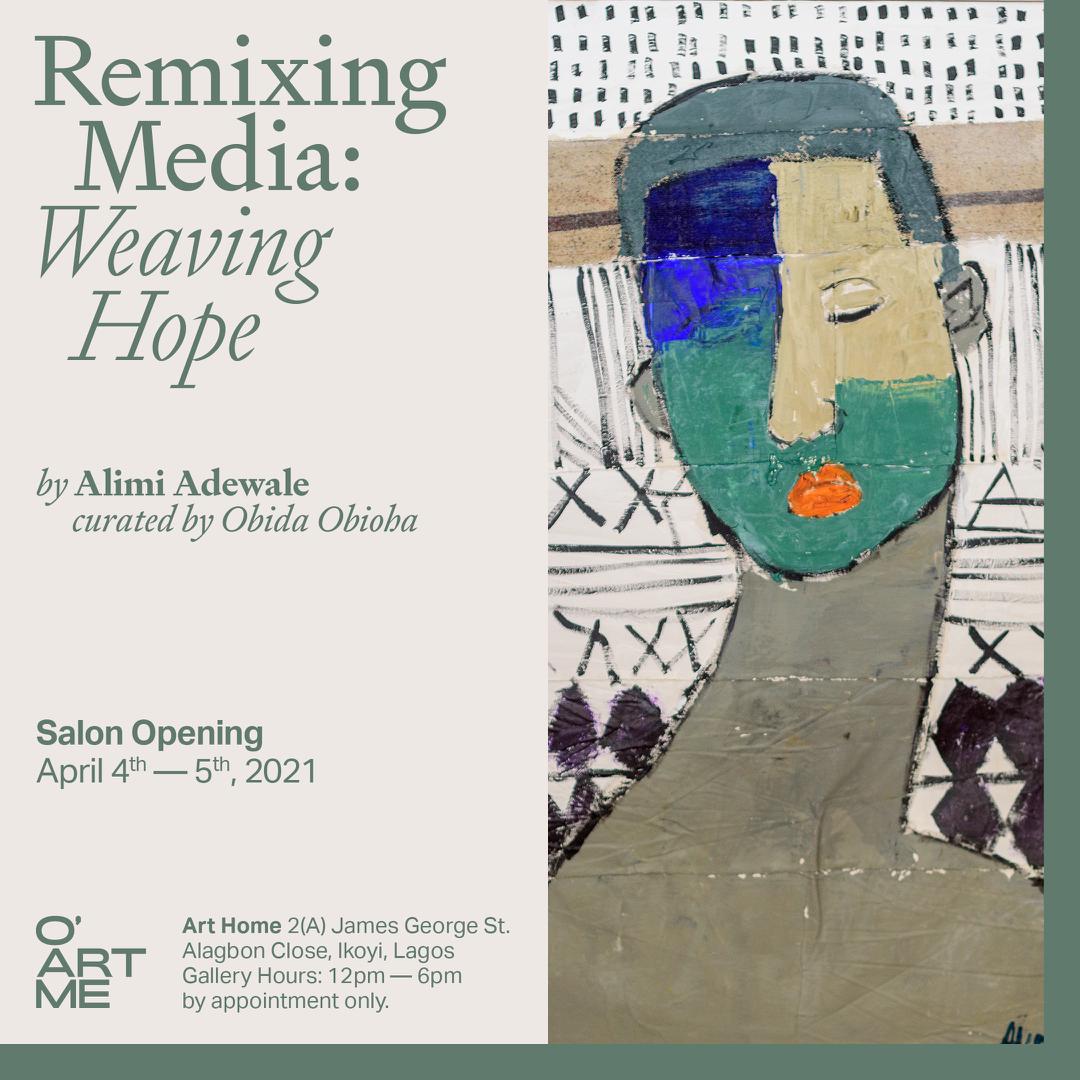 Remixing Media: Weaving Hope [Salon]
Artist's Statement
United by my interest in materiality and rich surface textures, I use my work to explores topical urban issues, documenting everyday city people who are often neglected and displaced in the drive toward excessive urbanization, rapid modern development and the growing global economy.
The focus of this Salon is finding hope amid the pandemic and different uprising in every part of the world, The recent announcements about a vaccine for COVID-19 has created a sense of hope for many of us.
These body of work includes mixed media, such stitched raw cotton, sack, dyed canvas, and collage tapestry, carved wood sculptures with painted surface.
Women in our society have taken a leading role both in our healthcare and political activism(EndsSars) these are depicted in the paintings  by the bold stance of some of the women while in some there is emphasis on hope and spirituality.
The painted carved sculptures with different colours patches are a reminder that we need nimbleness as we move into the brave new world where we will always look at   issues with different faces.
Enjoy the show
Alimi Adewale
(Lagos Nigeria)
Curator's Statement
O'Art Me and the incomparable Adewale Alimi are pleased to present, Remixing Media: Weaving Hope; the first edition of the O'Art Me salon at Art Home. Art Home fuses the intimacy of a home space with modern interior design and eclectic music to present art in a most natural environment. This exhibition highlights the beauty that can come from weaving culture, texture, and diverse media.
Remixing Media: Weaving Hope celebrates our newfound hope following the yearlong battle against COVID-19, the pandemic that fundamentally changed the world and our homes as we know it. Spatial management played an incredibly unique and challenging part in this pandemic as we were forced to spend more time confined in our homes to help curb the spread of the virus. Individuals learnt to appreciate their homes better as they manipulated their spaces to suit their new lifestyle and daily commute from the bedroom to living rooms. Art has played a pivotal yet subtle role in providing much needed respite in these trying times.
Walking through Art Home enables a new way to experience art as we bring interior design, spatial manipulation and art pieces together as a new form of mixed media installation.
The Curator
Obida Obioha is the Lagos based founder and creative director of a number of design related enterprises; O'Art Me art advisory, O'DA interior design, Alistar Design & Build interior construction and Obida Store product and fashion design. The unifying thread interweaving these seemingly disparate businesses is the desire to spread beauty and wellness into people's lives.
Obida trained at Scuola Politecnica di Design in Milan where he obtained a Master's Degree in Interior Design and a Diploma in Product Design. He has a sharp eye for design that works by fusing African aesthetics with a contemporary nod.
Obida spent over a year searching for the artist behind many truly inspiring works he found in the most unlikely places. The artist was Alimi. Through meeting Alimi, Obida was inspired to launch his first salon showcasing Alimi's latest collection. In this salon, O'Art Me will birth a new concept of art introducing interior design and space as a part of mixed media art.