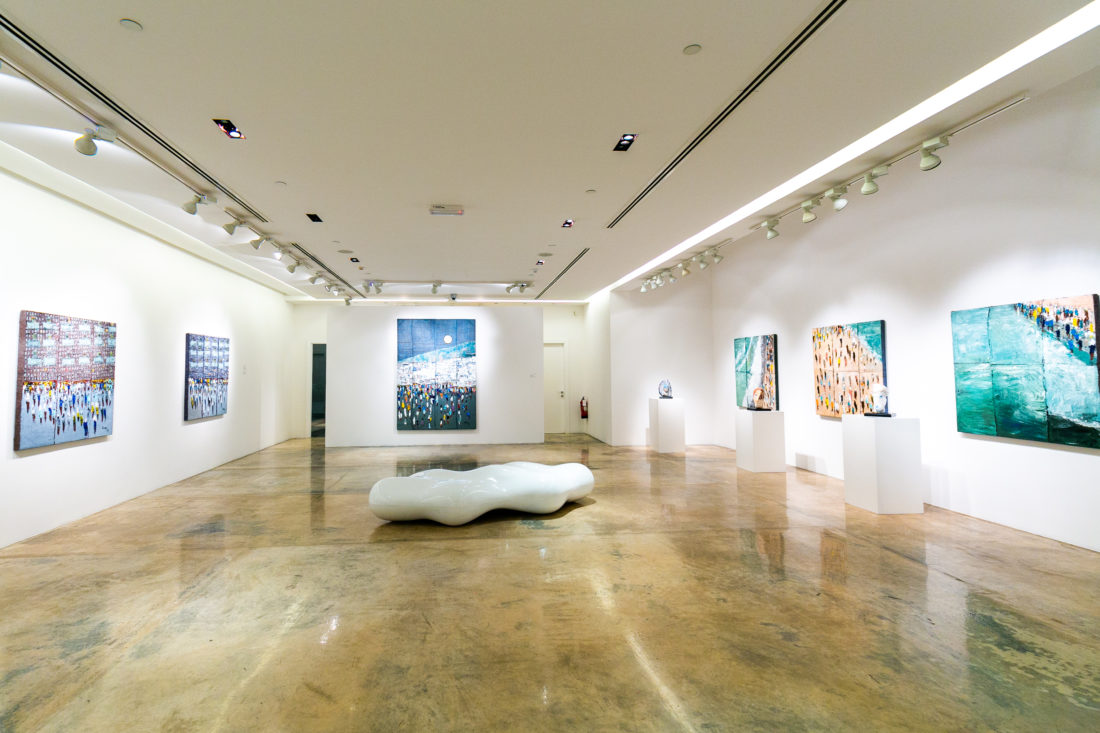 INTERSECTION- ANIMA GALLERY


INTERSECTION 
Intersection reflects my artistic need to derive ideas, style and taste from a broad and diverse range of sources; this exhibition is an intersection of different materials and medium. This body of work comprises of materials such as Dhurrie Rugs, Dyed and Stitched heavy cotton, Bronze works and Stone sculptures. 
United by my interest in materiality and rich surface textures, I use my work to explores topical urban issues, documenting everyday city people who are often neglected and displaced in the drive toward excessive urbanization, rapid modern development and the growing global economy. The focus of this exhibition is on the global issues of migration [Paintings] and Free Speech [Sculptures]. 
The world is on the move as never before. Migrants, defined as people living outside their country of birth whether for work, to follow a family member, study or escape adversity, numbered more than 250 million in 2017. The migration paintings are painted on Dhurrie rug which is made in India and the significance of this is; India was the leading country of origin of international economic migrants in 2019 with a 17.5 million strong diaspora, according to new estimates released by the United Nations. Some of the migration paintings are also painted on dyed stitched heavy cotton dyed using the African wax-resist dyeing technique applied to the heavy cotton this also have a significance because of the mass migration of Africans. 
Migration is not new, historically there have always been migration which includes Indo-European invasion of Europe and South Asia during the Bronze Age, Barbarian Invasions during the Roman Empire, the Great Migration from England of the 1630s, the California Gold Rush from 1848–1850, the Great Migration of African Americans from the rural American south to the industrial north during 1920–1950, and The Great Oromo Migrations of Oromo tribes during the 15th and 16th centuries in the Horn of Africa. UNHCR estimates 20 million Hindus, Sikhs and Muslims were displaced during the partition of India, the largest mass migration in human history. The largest documented voluntary emigration in history was the Italian diaspora from Italy between 1861 and 1970, with 13 million people leaving the country. 
The sculptures in this exhibition highlights the issues of free speech, these anonymous almost faceless sculptures in bronze and stone is sculpted to start a discourse around freedom of speech which is a principle that supports the freedom of an individual or a community to articulate their opinions and ideas without fear of retaliation, censorship, or legal sanction and this are non-existent in most part of the world.  
Enjoy the exhibition. 
Anima Gallery
30 La Croisette, Porto Arabia, The Pearl – Qatar