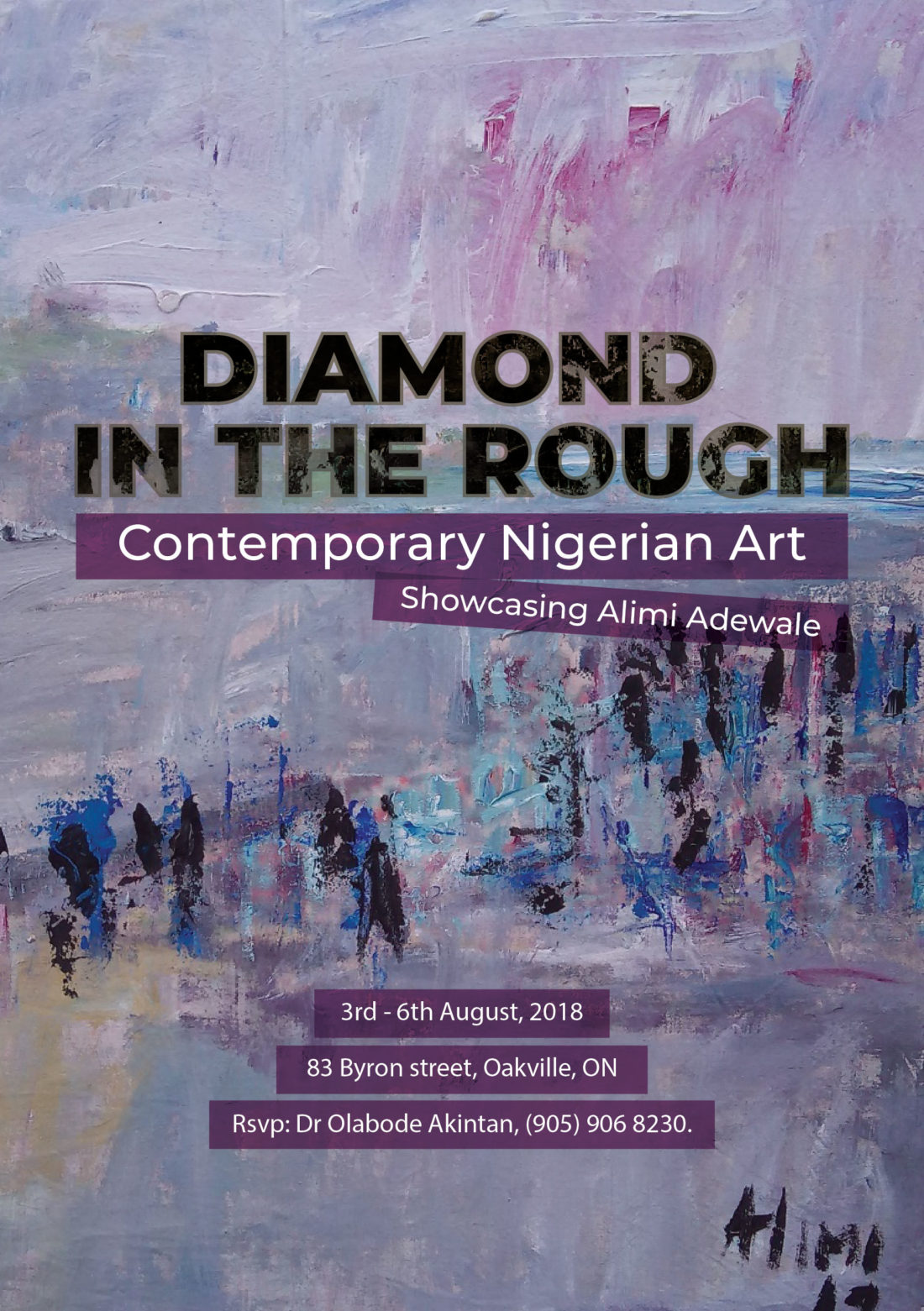 Diamond in the Rough [Salon Show ]
Artist Statement 
I think that painting relates very neatly to individual experience and the exploration of immediate environment. With painting, I always get the impression that you're sort of documenting contemporary issues that create discourse. 
—Alimi Adewale 
Alimi Adewale is a painter and sculptor who explores urban issues and the lives of everyday people in cities. His portraits, landscapes and nudes combine elements of minimalism and abstraction to evoke the movement and intensity of the cosmopolitan environment. In his paintings, drawings, sculptures, and mixed-media works, Alimi Adewale has produced a visual language that oscillates freely between personal and urban references. Constantly reinventing himself, I cycles through abstraction, impressionism, investigating Minimalist questions of color and form, tapping into the spontaneous gesture of abstract expressionism. 
"Diamond in the Rough", is a body of work that focuses on issues such as migration, urbanization and race. Migration series highlights on how restricted we in the less developed world are in in terms of mobility and migration compared to people in the developed world who can travel anywhere and whenever.  
This body of work is stemmed from my observation and the impact of migration without border. Extreme poverty is now increasingly concentrated among vulnerable groups, including people who had to flee in the face of conflict and violence, and their presence affects development prospects in the communities that are hosting them. 
Large movements of people are also fuelling xenophobic reactions, even in high-income countries, and this could threaten the consensus that is underpinning global economic growth." 
In the courage series when it comes to the mainstream media's depictions of black men and women, the portrayals we see on TV and in print are often negative. But young men and women of colour possess a range of complexities—insights, emotions, and aesthetics—that the public neither sees nor accepts because other culture culture often defines these males and females negatively and far too narrowly. In simple terms, there is much more to young men and women of colour beyond the stereotypical image. 
Urban Congestion series in this exhibition documents the Lagos environment and everyday people, brilliantly buoyant culture in Lagos with its lack of good road network, bumper-to-bumper cars, noise and pollution beyond belief and maxed-out public utilities. Elevated motorways ringing the island, city are jammed with speed freaks and absurd traffic jams ('go-slows') on top, and tin-and-cardboard shacks underneath. Infrastructure is appalling in this city, and It's a divided city, but an undeniably exciting one.  
Curator: Olabode Akintan
Oakville Ontario
2018