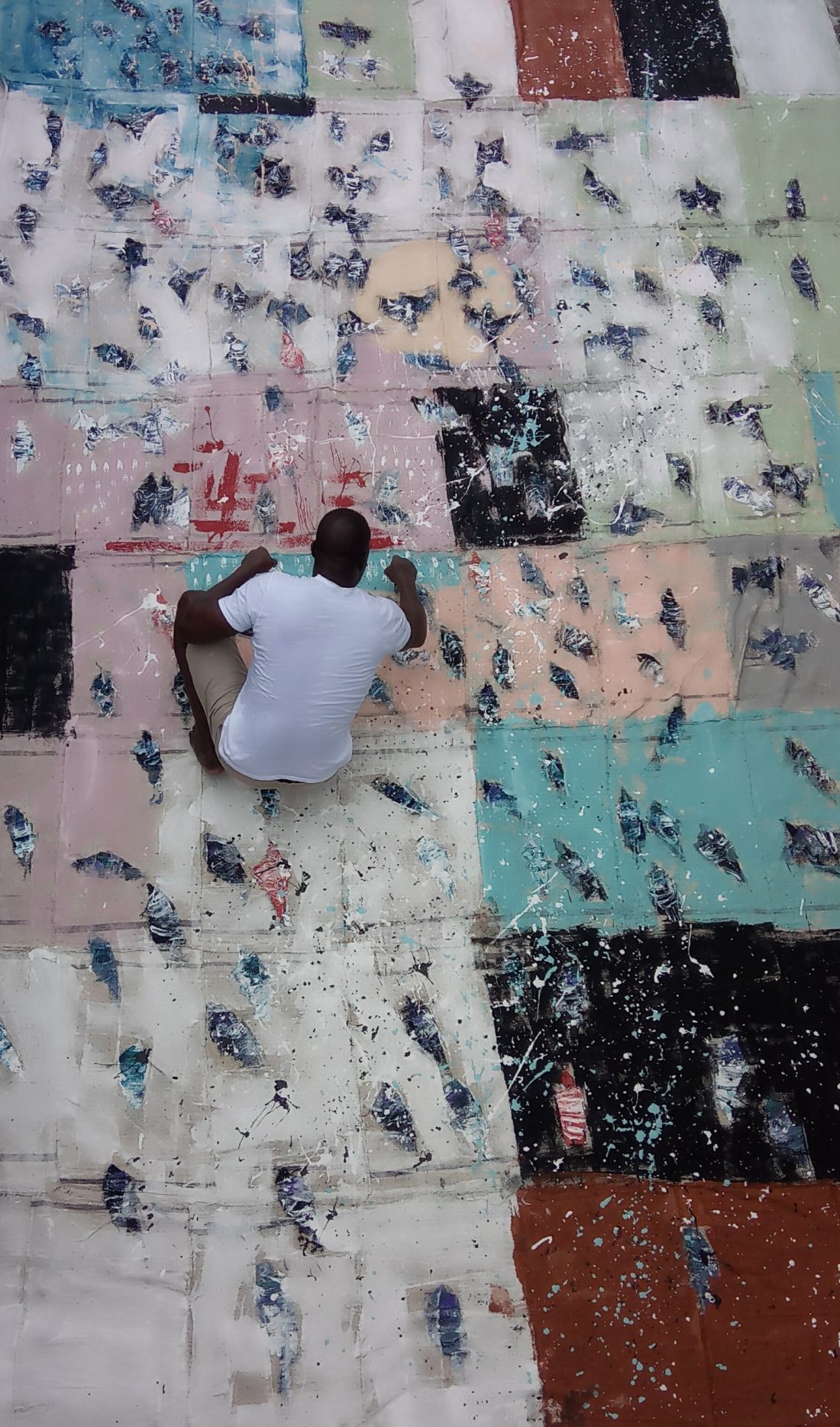 A Journey Into Contemporary African Art- Group Show
Rom Isichei – Chidi Kwubiri – Duke Asidere – Alimi Adewale – Gerald Chukwuma  – Suraj Adekola
Opening Reception: Tuesday September 17, 2019
6:00 – 10:00 pm
Exhibition running until Nov. 1st
As part of BEIRUT ART WEEK, Belvedere Art Space is thrilled to invite you to its third collective exhibition featuring for the first time, 6 leading international contemporary African artists.
The beauty of African art can deliver various feelings and messages, however true appreciation can only arrive through a comprehension of the culture and environment that influenced the art.
In Africa, art was seldom used for decorative purposes, but rather to give life to the values, emotions and daily customs of the various ethnic groups throughout the continent. The result has always been a fascinating art form that speaks to the viewer of the present turmoil while evoking a rich cultural past.
JOIN US on September the 17th to meet the artists and enjoy their artworks that convey diverse global subjects such as urbanism, migration, culture, identity and women, in a unique African spirit, rich in composition, color, texture, material and expression.
Rom Isichei is a conceptual artist whose practice has persistently engaged object and material exploration. His compositions often evoke contemplation and engender dialogue about identity and culture, failures and insecurities, less and excess, loneliness, rapture and gaiety, and other emotional 'gestures' within our contemporary commune.
Chidi Kwubiri is an artist that addresses through his artwork the reinforcement of power and hope against sociopolitical tension surrounding global migration issues. His bold interpretations also touch on the impact of music on global youth movements by interpreting cross – generational rhythms, culture and political consciousness.
Duke Asidere comments on everyday human drama that surrounds him, political, social, psychological or cultural through painting headless or limbless figures and faces of strangely hybrid beings to densely populated urban landscapes, accentuated with thick strokes of vivid color, simplicity of form and expressive lines.
Alimi Adewale depicts traditional genres but with a contemporary expression in a profusion of rich texture and often uncommon sculptural finish. He incorporates elements of minimalism and abstraction to create an artwork that is distinctly current. Alimi has used his art practice to explore urban issues as well as painting the sorrows and joys of African women.
Gerald Chukwuma uses a multitude of techniques like burning, chiseling, and painting common materials that captures a richly layered history imbedded with personal and political meaning. The artist is drawn to the movements of people through voluntary and forced migration as a vital stage in the progress of our collective humanity.
Suraj Adekola strives to document the Nigerian culture using light, color, texture, energy and subtle emotion in his paintings. He is mostly interested in depicting the Nigerian rooftops, landscapes and topography.
Location: Belvedere Art Space – One Oak Building – Chafic Wazzan Street – Downtown, Beirut
17 Sep – 01 Nov 2019